Reduce overall cost of sales


Complex Problem – Huge Opportunity
There are few areas in business today that have as many variables or are as complex as the reduction of the overall cost of sales. Likewise, there are few opportunities in business where a great impact can be effected quickly. As with any objective, there must to be a realistic action plan for accomplishment. The plan must be communicated and "sold" to all participants. Company culture and tradition can be a significant barrier to success, especially if some are asked to sacrifice and others are not.


Ways to Accomplish the Task
Reducing overall sales cost as a percentage of sales can be accomplished by cutting costs (short term) or increasing sales (longer term), or a combination of the two. Increasing sales is the most often preferred method, depending on the economy and the demand for goods and services.


Another alternative approach to reducing the overall cost of sales is through improvements in efficiency and gains in effectiveness. It is in these areas that we address best practice relative to continuous improvement of the sales processes with tools such as qualification, account planning, opportunity servicing and tracking, value delivery, business consultancy and relationship building.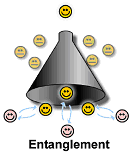 A Process Change Is Required
Reducing the cost of sales means changing your processes and doing business differently. Change is required. Hard choices must be made and swift definitive action is required. Change is most often opposed when the reasons for change are not universally understood. As change agents we help you formalize the necessary communication and action plans with required feedback to successfully reduce the cost of sales.


What's In It for You?
The sales organization most often has a greater impact on profitability than any other organization within the company. Focus on it and get the value benefit. If your company can take just 1% out of your selling cost and maintain your sales price, you will add 1% to the bottom line pretax. In a competitive market this can spell the difference between profit and loss in any given year. From a personal perspective, bonuses, stock options, merit increases and even your employment can all be affected by the profitability of your company.


What Makes Us Different/Why Us?
We are a change agent by design. We understand what can and cannot be done in an organization, how to establish the guidelines, communicate the objective and put process in place to drive the results. As previously stated, making changes is always painful but in today's environment it is often change or die a slow death. Are your margins eroding, cost of sales creeping up and profitability decaying? If so, take action now before it is too late.


Key Tools, Processes and Concepts that support the reduction of overall cost of sales:
Account/Opportunity Identification
Account/Opportunity Qualification
Value Quantification/Qualification
1 Page Business Plan
1 Page Closing Plan
Dynamic Relationship Plan
Target Opportunity Reviews
Major Account Reviews
Personal Success Plan (4 Qtrs. Rolling)
HVS Education Seminars